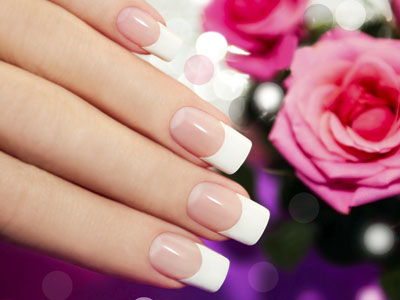 There are no chemicals involved in the hardening process however this system does require a UV light form to cure the product. Gel contains oligomer – a partially polymerised polymer (or a few molecules of gel already linked together).
The oligomer is the backbone of the gel that determines its strength, toughness, flexibility, shine and scratch resistance. Gel is an odourless procedure and is favoured for its ultra clear and permanent natural high shine. It can be used with tips or as a natural nail overlay and is brushed on in stages creating coatings of structure to build you perfect strong, flexible, durable, and long lasting nails.
Gel is my most popular demand in salon.
My top selling look, is my 'Permanent French Manicure'
This procedure can be applied directly to your natural nails or to your enhancements and involves working with a white coloured gel that is painted on to create that perfect smile line. Layers of clear/pink gel is then applied coating the white gel making it 'permanently sealed'.
This creates great benefits – not having to wait for lengthy drying times, no chips, no cracks, no smudges, no discolouring and is versatile in allowing you to be able to paint a colour on top and when removed with a non-acetone polish remover, you nails still remain naturally shiny and unmarked.
This can also be applied to toe nails – again another very popular procedure I carry out in the salon. Clients love not having to worry about how they're toes look in strappy shoes. You become as confident with showing off your feet, just as you do showing off new nail enhancements. Again, versatile for painting and when removing polish, remaining unmarked beneath.
Gel's also come in a variety of colours. So if you love to wear the same colour constantly, you will much benefit wearing a coloured gel that again, you will not have to endure any waiting of drying times etc as explained above. Another great favourite for toe nails, especially summer holidays, weddings and special occasions.
Gel is a non – porous product and so will not absorb colour additives from varnishes . Hence always remaining naturally shiny. You will sometimes notice when removing polish from Acrylics a dull appearance of the surface or colour absorption that has penetrated into the surface of the nail product. With gel, this does not happen.
Most gels are resilient to solvents so it cannot be soaked off like other systems. The product has to be buffed off . People panic when they hear this but any qualified nail technician is trained to remove gel nails safely and professionally without causing any damage to the natural nails. It is always advised that anyone wanting nail enhancements removed returns to the salon to have them removed professionally.
I advise a consultation with your technician to determine the best system for you.
Oil and Condition
As with all nail systems, it is still vitally important to oil your nail as you will be advised from your technician. Oiling your nails is as important as conditioning your hair and moisturising your face. Hair and nails are both made up of keratin cells and generally both will be of similar condition. Many of us forget to condition our nails, yet we take for granted, that we actually use them for everything, so they do get they're fair share of wear and tear.
Home maintenance
I can enhance the beauty of your nails, by giving you your desired look and my expertise and knowledge behind keeping your nails healthy by delivering a profession and salon clean service, but it is down to you at home to oil and condition your nails in the meantime.
Working with me, together, you can and will have beautiful nails, with or without nail extensions.